Top 20 Majestic Places To Visit In South India
date_range23 Sep 2023
visibility4331 views
South India's landscape is still relatively undiscovered territory by the mass tourist wave and is only now slowly opening up to international travellers. One thing is for sure: you will be mesmerized as you travel the length and breadth of South India, discovering new places that foster pristine landscapes. It is a lovely destination for Solo trips to honeymoons to bike rides to family trips.
South India - Naturally Beautiful, Culturally Rich
Let's dive into some most beautiful places to visit in the South:
Coorg
Also commonly known as 'Scotland of India', is a beautiful hill station in Karnataka. With hazy temperatures all year long, it is a great tourist attraction. Coorg is heaven for hill station lovers. As Coorg is one of the places with the highest rainfalls in the country it is well known for its coffee and tea plantations. Apart from that, tourists are also attracted towards Abbey, Mallali and Iruppu Waterfalls, Pushpagiri, and Brahmagiri for trekking, the breathtaking view of the Harangi river.
Coorg also offers a variety of activities to enjoy with your stay.
Rafting: It has a 2.4km long rafting ranging from class 1 to class 4 waves.
Treks: Coorg offers a number of treks at Brahmagiri, Kumara Parvatha, Kopatty, Chomakund, Kakkabe, and many many more.
Apart from these, you can also enjoy kayaking and canoeing, fishing, paintball, and also some flying activities. It is perfect for adventure places in South India.
It is the perfect stop for a family vacation or a trip with your friends. Also, it is about 156kms from Mangalore Airport. You can always book a bike from the Royal Brothers and have an amazing stay at Coorg.
Wayanad
Wayanad, a village in Kerala is a heaven for those fellow travellers who want to take a break from the busy city life and spend some quality time close to nature and get a gist of some wildlife. This beautiful South Indian village offers every tourist attraction from dams, ancient temples, caves, wildlife sanctuary, etc. A nature lover should just not skip Kuruva Island and Pookode Lake. One can raft their way towards Kuruva Island and get lost into the serenity blessed by Mother Nature.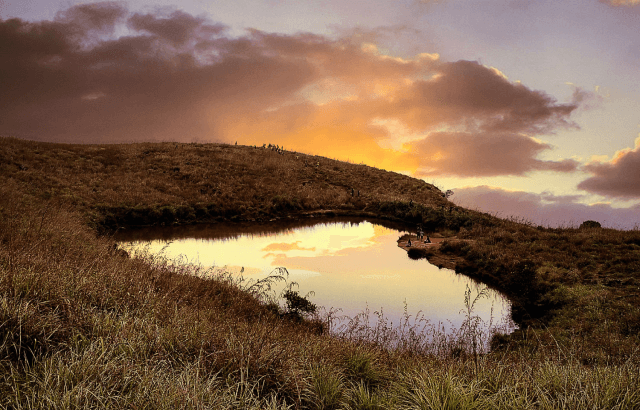 Wayanad has a wide range of cultural diversity. It offers the visitors Urav, the world of Bamboos, Urav: that provides a unique local musical instrument, The Thudi, the paintings by the Kattunayakan tribes, and the best of all, the archery expertise in Ambalavayal.
The nearest railway station to Wayanad is Kozhikode. It is a 110 km long drive, surrounded by the green beauty. The tourist attraction of South India starts from this road trip itself. Make sure to catch a window seat!
Chikmagalur
Known as the Coffee Land of Karnataka, India has its first-ever coffee plantation here. Another added benefit of visiting Chikmagalur is that they are known for their homestays. Situated in the western ghats, Chikmagalur is surrounded by thick forest with a suitable climate for vacation throughout the year.
Chikmagalur offers some of the most beautiful historical monuments of South India in the form of temples. Within 100 kms from Chikmagalur, there are some amazing domes in the form of Kalasa, Sringeri, Belavadi, Balehonnur, etc. Some of these monuments date back to the 12th Century. Apart from these, Chikmagalur also plays host to a number of natural parks and wildlife sanctuaries. These natural trials envelope within them a number of animals like elephants, tigers, leopards, boars, porcupines, gaurs, deers, etc.
Chikmagalur also has within it a number of waterfalls and all these just within connectivity of rails, airways as well as roadways!
Munnar
Situated in North East Kerala, Munnar is yet another beautiful South Indian hill station. It has been a very popular holiday spot since the British era. Also, it has also been a very common honeymoon spot.
Munnar is very popular for a particular flower called the Neelakurinji. This flora blooms once in twelve years. they are next expected to be seen in the year 2030. Anamudi is another tourist attraction in south India, situated in Munnar. It is the highest peak in the South which is at the height of 2695m.
You will also find one of the richest flora and fauna in Munnar in the form of lakes, tea museums, dams, sanctuaries, dairy farms, echo points, waterfalls, national park, etc. Blossom International Park, holding some rare and exotic flowers will add to the charm along with bird watching, roller skating, and paintball activities.
Cochin International Airport is the closest airport to Munnar. So get ready for a 125km long beautiful drive to Munnar.
Puducherry
Also known as Pondicherry, was one of the largest French colonies in India. Some people also lovingly call it India's French Colony. So if you want to explore some of the most exquisite French historical monuments in South India, you should not miss Puducherry.
Puducherry places host a number of religious monuments in the form of Temples. Mosques and Churches. Also one should spend a day at the Shri Aurobindo Ashram and at Auroville. They are good tourist places in South India, which allows you to meditate and get the peace we have all been searching for in the hodgepodge city life. One will also find a number of statues, scriptures, and museums in this Union Territory, owing to the connection it shares with the history.
Apart from the beautiful sea coasts and beaches, Puducherry has to offer it will also excite you towards the different gardens that this city holds. The botanical garden, the science garden, Ousteri wetland, and National Park are also some places that will excite you.
Puducherry is a full pack adventure place in south India. A bike ride from Royal Brothers will ease your 135km long ride from Chennai International Airport to Puducherry.
Andaman & Nicobar Island
Situated in the Andaman Sea, Andaman and Nicobar Islands are heaven for people who enjoy beaches and other water activities. Its Capital Port Blair has been of historical importance dated back to World War II.
Andaman and Nicobar islands are a one-stop destination for all the fun you are looking for on a holiday. It has activities from scuba diving, Sea walking, seaplane ride, snorkeling, etc. and also amazing sightseeing like Havelock island, cellular jail in Port Blair (imprisoned a number of national leaders in the British era), Viper Island, etc.
Andaman and Nicobar also offer a variety of flora and fauna to enjoy. Andaman and Nicobar have a noteworthy rubber plantation, mangrove creeks, Karmatang beach: also known as the Turtle Paradise, etc. Mount Harriet national park is a heritage for the flora and fauna this Island has to offer. The clean and crystal clear water entice everyone.
The best way to reach this Island is to catch a flight to Port Blair Airport. Or one can book a cruise ship for Kolkata, Chennai, or Vishakapatnam.
Mysore
The previous Capital city of Karnataka, Mysore is known as the Palace City of India. It is a very popular tourist place in South India for people who are big enthusiasts about Palaces and other structures. The palaces and gardens that Mysore holds are some of the best Historical Monuments of South India. Most of these monuments are from the Eighteenth and the Nineteenth Century. Hence, these monuments represent the Indian architecture of the British Era.
Palaces to visit: Mysore Palace, Lalitha Mahal, Jaganmohan Palace, and the Vijaylakshmi Vilas Mansion
Gardens to Visit: Brindavan garden, Jalbagh, Happy man Park and the Butterfly Park
Museums to Visit: Mysore sand sculpture Museum, Regional Museum of Natural History, Folklore Museum, Rail Museum, and Wax Museum.
Others: Mysore Zoo, Ranganathittu Bird Sanctuary, Orient Research Institute, Chamundi Hills Temple, Infant Jesus Shrine, St. Philomena's Church, Shivanasamudra Falls, Bylakuppe.
The nearest airport to Mysore is the Bangalore International Airport. It is 170 kms away.
Ooty
Ooty is one of the most well-known hill stations in India. This hill station is known as Queen of Hills by the locals, is situated in Tamil Nadu, is surrounded by the Nilgiri Hills. And the best part of visiting Ooty is one can visit Ooty at any time of the year and every climate brings out a majestic climate to enjoy.
One unique offer that Ooty has is the breathtaking views of the Lake houses at the Ooty lake. It was constructed in the 19th Century and lets you explore the majestic Ooty valley and the Eucalyptus trees on the coast on Ooty lake. During the summer, boat races and pageantry are organized at this lake. Nilgiri Mountain Railway is a World Heritage Site that is another amazing tourist attraction of South India.
Ooty also offers a great variety of flora to its visitors. Hybrid tea roses, Miniature roses, ramblers, roses of colors such as green and black are some of the diversified flora. Apart from that Ooty also organizes an exhibit for the rare flowers. Ooty also offers a number of plant gardens and parks to its visitors. Also, the deer park is a recommended visit.
Ooty also is home to a number of exotic animal species. The Royal Bengal tigers, Indian Leopards, endangered Indian elephants, long-billed vulture, Indian white-rumped vulture are a few to be named. The North-Western and South-Eastern corners of the Nilgiri hills are protected for this wildlife.
Apart from all these natural beauties that Ooty holds, it also has some tribal huts, museums, and historical buildings which will lure you to make Ooty your home. the Stone house, St. Thomas Church, St. Stephen's Church, Toda huts, and the Tribal museums should make a sure place in your itinerary.
One can reach Ooty by either the Coimbatore Domestic Airport (88 kms) or the Bangalore Airport (295 kms) and then we advise you to hit the road to connect your spirits with all the beauty that the roadways have to offer.
Gokarna
Gokarna is yet another classic city to enjoy the beaches. It has a geographical location that crosses paths with the Arabian Sea as well as the Western Ghats. It is known as one of the seven important Hindu pilgrims centers, a large number of devotees worship Lord Shiva there.
Beaches such as Om beach, Half Moon Beach, Belekan beach, and Paradise beach are a few amazing beaches to visit. The Om beach is Shaped in the Hindu Om symbol. Gokarna also offers a number of activities like trekking, surfing, boating.
It is a lovely place to have a solo trip. Everything that Gokarna has to offer will surely provide you with a very relaxing weekend. The best way to reach Gokarna is to catch a train that drops you to the nearest station Ankola, which is 20 kms away from Gokarna.
Thekkady
Thekkady is situated in Kerala and is known most for its Periyar Tiger Reserve. It is the largest tiger reserve in our country. It also inhabits a number of endangered mammals, birds, reptiles, and amphibians. You can have an amazing elephant ride that has always been your dream.
Thekkady also hosts a number of adventures in the South Indian terrain. It has boating, trekking, jungle safaris, camping, etc. The best part of visiting Thekkady is that all these fun-filled adventures and sightseeing is compacted in only Periyar. Hence, one can spend less time going from place to place and can enjoy more of the time sightseeing.
The best way to reach Thekady is to take a train to Kottayam which is 114 kms away.
Hampi
Hampi is a UNESCO World Heritage site located in Karnataka. It is a well-known and good tourist place in South India and is full of historical monuments in the form of Temples. Hampi was founded in the 14th Century and holds a lot of traces back to the Vijayanagara empire.
One should not miss the World's largest Open Air Museum, The Stone Chariot, and the Virupaksha Temple. The city of Hampi is divided into two parts, the Sacred Centre and the Royal Centre. The Hampi Bazar at the banks of the holy Tungabhadra river is also a must on your checklist. If you plan to visit in the months of January and February, you can attend the Virupaksha Temple Car Festival and the annual Purandaradasa Aradhana Music Festival at Vittala Temple.
To reach Hampi you can either book a flight to Hubli which is 166kms away or you can take a train to the Hospet Junction which is 13 kms away.
Hyderabad
Also known as the City of Pearls. Hyderabad is a beautiful city made up of Palaces and forts. This city is an amazing place if you wish to buy natural pearls, diamonds, and emeralds. Also, it provides amazing lacquer bangles, handwoven silk saris, and pieces.
Hyderabad has a number of places to visit that hold historical importance. The Charminar, the Golconda Fort, The Spanish Mosque, the Deccan monument, Qutb Shahi Tomb, etc. All these places tell us so much about Hyderabad's connection to history. Hyderabad also has a number of beautiful palaces: namely, Falaknuma Palace, Chowmahalla Palace, Taramati Bhandari, King Kothi Palace, Asman Garh Palace, etc. A beautiful marble made Birla Mandir is located on a mountain giving you a serene view of the whole city.
Visiting Hyderabad one should not miss the museums and planetarium it has. The Salar Jung Museum has some of the most distinctive artifacts that will make you wanna visit the city again. One should also see the Birla Science Museum and Planetarium. You can also spot a large dinosaur skeleton at these museums.
Hyderabad also shows the beauty of nature in a splendid manner. Hussian Sagar Lake has a large 19 meters tall Buddha statue and it offers boating and other water activities. Also, you can spend some quality time at the NTR Garden, Lotus Pond, Lumbini Park, etc. One amazing day at the Nehru Zoological Park should be parked to look at some animals like Lions, Giraffes, Zebras, One-horned Rhinos, Pumas, Hyenas, and all other breeds of cats.
When one visits Hyderabad, they should definitely not come back without visiting the Ramoji Film City. This studio cum park covers an area of 1666 acres and has a Guinness Book of World Records for the largest Studios in the world. A number of popular Bollywood movies like Bade Miyan Chhote Miyan, The Dirty Picture, Krrish 3, Dilwale, Ra One and Chandramukhi, the Hollywood productions Beeper and Quicksand are shot there. It also offers a variety of activities to spend a day full of fun and a Japanese garden to soothe your mind.
Kodaikanal
Kodaikanal meaning 'The Gift of the Forest', is referred to as the 'Queen of Hill Stations' in Tamil Nadu. It contains a 45 acres artificial, star-shaped lake called Kodaikanal Lake. It is a great place for some boating activities.
Also, visit Bryant Park which has 19 century eucalyptus and Bodhi trees to visit. In the peak seasons, one can also enjoy the amazing horticulture shows organized by the park. Also, Green Valley View and Pine Forests are ancient and fun to visit.
Shembaganur Museum of Natural History has a collection of over 500 species of animals, insects, and birds. Also, it provides you with 300 species of Orchids. Kodaikanal Solar Observatory is another fun place that is also informatory.
Some other places to check out in Kodaikanal are the Coaker's Walk, Poombarai Village, Pillar Rocks, Guna Caves, Silver Cascade, Dolphin's Nose, Berijam Lake.
The Airport nearest to Kodaikanal is the Madurai International Airport about 115kms or head for Palani train station about 64 kms away.
Coimbatore
Also known as Kovai, Coimbatore is a city in Tamil Nadu, surrounded by the Noyyal River and the Western Ghats. The Adiyogi Shiva Statue holds a place in the Guinness World Records as the "Largest Bust Sculpture" in the world. Located at the Isha Yoga Center, the statue symbolizes moksha (meaning freedom). It is said to be a great place for meditation.
Coimbatore offers historical importance to South India. The Kothaimedu mosque was built by Tipu Sultan. Other places that make Coimbatore historically important are the Vyasaraj Mutt, Coimbatore Central Prison, Delite Theatre (Variety Hall), Plague Mariamman Temple, Town Hall, Clock Tower, etc.
One should also buy the famous Kovai Kora Cotton Sarees as well as the Coimbatore Wet Grinder while visiting the city. Also, this city holds a lot of religious importance. The beautifully structured and ancient temples, mosques, and churches should not be skipped.
Geographically, Coimbatore also offers flora and Fauna in the form of Botanical Garden, VOC Park & Zoo, Gandhi Park, Valankulam Lake, Seevaga Sinthamani Lake, Kurichi Lake, Perur Lake, Sulur Lake, Vaideki Falls, and Butterflies. Along with this Coimbatore also has a few amusement parks to give the visitors a gist of fun. This city also has some of the best museums in the state.
Bengaluru
AKA Bangalore, Bengaluru is the IT hub of India and is also known as the Garden City of India. Companies like Infosys Ltd, MindTree Ltd, Wipro Ltd, Accenture Services Pvt Ltd have their headquarters in Bengaluru. Apart from this, the city provides a number of places for tourist attractions which makes it a very popular tourist place in South India.
This Capital city of Karnataka has a lot of historical importance. It also beholds within it a number of historical monuments of South India. The Lal Bagh botanical garden, established in the 18th Century is well known for its flower shows. Jayaprakash Narayan Biodiversity Park contains 4 lakes and has about 250 varieties of trees and shrubs.
Some other noteworthy historical monuments in Bengaluru are the Bangalore Fort, Tipu Sultan's Summer Palace, Kempegowda Watch Towers. Bengaluru also has a number of WWI memorials. Also one can visit a number of Museums like Gandhi Bhavan, Government Museum, Kempegowda Museum, HAL Aerospace Museum, NIMHANS Brain Museum, Philatelic Museum, Law Museum, and the Jawaharlal Nehru Planetarium.
Bengaluru also has a number of hills, mountains, caves, and lakes where one can go for activities like rafting and kayaking. They also have a number of national parks and aquariums. Also, spend a day at the amusement parks like Wonderia, Lumbini Garden, Innovative Film City. The ISKCON temple in Bengaluru is one of the most beautiful ones.
Kanyakumari
Situated in the South of Tamil Nadu, Kanyakumari is the southernmost mainland in India.
The 133 feet high statue of the famous poet Thiruvalluvar is one of the major tourist attractions of Kanyakumari. It stands on an island which gives the chance to take the ferry. By visiting Thiruvalluvar, one can take a stroll at the beautiful Kanyakumari beach. One should also take a look at the beautiful sunset from this beach. The amalgamation of the Bay of Bengal, the Arabian Sea, and the Indian Ocean makes the sunset one of its kind.
Kanyakumari is also well known for its religious importance. Some of them to look out for are Thanumalayan Temple, Bhagavathy Amman temple, Our Lady of the Ransom Church, Adi Kesava Perumal Temple, Jain temple, etc.
Some of the other attractions that make Kanyakumari an interesting place to visit are beautiful sculptures. The Vivekananda Rock Memorial, Gandhi Memorial, Mathur Aqueduct, Tsunami Monument are a few examples. One should also get a few days at the breathtaking beaches like Vattakottai Beach, Thengapattinam Beach, Sothavilai Beach, Sanguthurai Beach, and the Courtallam falls.
To reach Kanyakumari take a flight to Trivandrum International Airport which is 67 kms from Kanyakumari. Don't forget to book a ride from Royal Brothers to enjoy your ride to Kanyakumari.
Coonoor
19 kms from Ooty, Coonoor is another good tourist place that Tamil Nadu and South India have to offer. Situated in the Nilgiri ranges, it is well known for its tea plantations and the festival it hosts around it.
It is a small hill station but has a beauty that is beyond comparison. One can enjoy the tea plantations at the Guernsey Tea Factory as well as visit the famous Bakasura Malai. It also has a great research center for the plantation of fruits, namely, Pomological Station.
Silk is what Coonoor is well known for. Do not forget to visit the Silk Rearing Station and your loved ones a beautiful Silk gift. Also visit the Wellington Golf Course, which is well known for film making and song shooting. Also, get refreshed within the beautiful waterfalls in Coonoor. Katary falls is famous for its hydropower generation.
Some other great sightseeing options that Coonor has are Thandu Mariamman Temple, St. George Church, Lady Canning's Seat, Dolphin Nose View Point, Lamb's Rock, Hidden Valley, and the Sim's Park.
The best way to reach Coonoor is to take a train from Bangalore, Kochi, or Coimbatore. Or you can enjoy the toy train from Ooty to Coonoor. You can also head towards Coonoor from the Coimbatore Airport and enjoy a 100 kms ride to Coonoor.
Lakshadweep
It is a small yet magnificent island in the Arabian Sea. It is a well-known place for taking cruises. A number of Government-Run Cruises and Private Cruises take you to this Island. SuperStar Libra and MS Ocean Odyssey are the best Private Cruises to take for Lakshadweep.
The stays in Lakshadweep are also unique in their own way. They offer tents and cottages that give you a 5 star feel while enjoying the stay. One can also enjoy a number of water activities like Kayaking, Scuba diving, water skiing, yachting, and surfing. It is also well known for its coral reefs at Agatti island.
One can also visit a number of other islands, Minicoy Island, Amindivi Island, Kalpeni Island, Kavaratti Islands, etc. This Island has a number of amazing marine life. It also has an amazing flora and fauna, 600 species of fishes, 78 species of corals, 82 species of seaweeds, 52 species of crabs, and 101 species of birds. Is there anything else to say!
The best way to reach Lakshadweep is to take a cruise from Kochi. 14 to 20 hours of sea fun. Alternatively, you can also fly to the only airport at Lakshadweep at Agatti.
Warangal
Warangal is a place of historic importance situated in Telangana. The nearest airport is the Rajiv Gandhi International Airport, Hyderabad. You can book a bike with Royal Brothers for 174 kms and explore the city that this ride has to offer.
To start with one should visit the Thousand Pillar Temples. It is believed to be constructed in the 12th Century and has one of the most beautiful architectures for temples from that age. The Bhadrakali Temple, Padmakshi Temple, and the Ramappa Temple are also well known.
Warangal also has some amazing parks and gardens to visit. The Kakatiya Musical Garden, Kakatiya Zoological Park, The Public Garden in Hanamkonda are a few to name. Warangal also has some amazing structures to observe, the Kakatiya Kala Thoranam and the Kota Gullu.
You should also visit the Warangal fort and Warangal museum to know more about this city's culture. Finally, you can visit the Eturnagaram Wildlife Sanctuary to interact with some fellow living things and have a relaxing time with nature.
Visakhapatnam
Popularly known as Vizag, Visakhapatnam is the largest city in Andhra Pradesh. This city is a total package and is also known as the Goa of the East Coast. It has beautiful beaches, hillocks, and also stunning landscapes.
Visakhapatnam has some of the best beaches that South India has to offer. Ramakrishna Beach is one of the most popular beaches here. One can simply take a stroll here and visit some beautiful parks, museums. Also, the Kali temple near this beach is a top recommendation. Rushikonda, Gangavaram, Yarada, and Bhimili are some of the other beaches to visit.
Kambalakonda is a sanctuary at Visakhapatnam which is popular for its serene as well as its hiking. With a very nominal entry fee, one can enjoy the beauty of nature at this sanctuary. Also, visit Kailasagiri and take a ropeway ride with the majestic view of the sea. Some other things to visit are the War Memorial, Araku Valley, Borra Caves, Ross Hill, Simhachalam, and Matsyadarshini Aquarium.
Also, the amazing Submarine Museum, Naval Museum, Buddhist excavations, and the Bojjana Konda are some of the must-visit places when you visit Visakhapatnam.
---
South India is a perfect vacation spot. It offers everything from beaches to mountains to historical monuments and museums. You can visit it with friends, family and also take a solo trip. Its culture and its people will make you fall in love with the place. Also, the number of options that you have to visit is never-ending. So pack your bags and book a ride with Royal Brothers and take a trip to the South of India. And do leave a comment once you fall in love with your trip.